Asseenonthetv's 'Must Have' Festival and Camping Gear
The festival season is well and truly upon us, with Isle of White, T in the Park and Latitude a distant, muddy memory and the likes of Reading, Leeds, Bestival and V festival fast approaching. For those of you who are heading off to a festival or have a camping trip planned for the summer, we've got a round-up of the top festival and camping gadgets available right now.
Lifeproof for iPhone
Available at: Firebox.com
I think we can all agree that the iPhone is a pretty awesome bit of a kit. However, it is a delicate little thing and the majority of iPhone covers available only provide limited protection. Enter the Lifeproof, finally on the market after three years of research. Incredibly sleek in design, the Lifeproof will only add 1.3mm to the size of your phone but will protect it from all manner of spills, drops and accidents. The case allows you to take your iPhone up to two meters underwater and weighs less than an ounce; could this be the greatest iPhone accessory to date?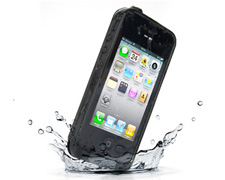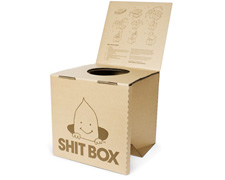 Sh*t Box
Available at: Firebox.com
The whimsically named Sh*t Box tackles the most famous camping problem of them all: what do you do when it's three in the morning and you've got to go, like now? Never fear, folks, the Shit Box allows you the freedom to answer the call of nature anywhere and everywhere. Well, maybe not everywhere. Maybe nip behind a bush. Specifically designed to be used outside, the cardboard toilet is flat-packed but easily constructed into a sturdy portable toilet. It's reusable too, complete with biodegradable waste bags. And if none of the above has sold you on the Shit Box, just look at the mascot's happy little face. Charming.
HotCans
Available at: Firebox.com
Ever spent hours slaving away over a dying campfire in a vain attempt to assemble dinner without poisoning your fellow campmates? If so, a gadget like HotCans is probably music to your ears. Through the power of science, these canned ready meals heat themselves through the second you open them. No cooking, no equipment, no mess involved. Each meal is healthy and surprisingly low in calories and fat, meaning you don't have to break your diet to enjoy them. Available in a range of flavours, including vegetable chilli, sausages and beans, chicken curry, beans with meatballs and spicy beef pasta, even the pickiest eater among your group is sure to find something to take their fancy.
Overboard Dry Bags
Available at: Firebox.com
The Overboard Dry Bags are a metaphorical middle finger salute to the British weather we've come to know, hate and continually complain about. Promising to keep your belongings completely dry, even when submerged completely under water, these ingenious storage solutions should be a staple in any camper's kit bag. They float, fold down to a fraction of their size when not in use and come with both a shoulder strap and a carry handle. Plus, they're a bit of a bargain – you'll certainly wish you'd forked out £14.99 when you're lamenting your soggy iPad.
Pebble Portable Charger
Available at: Firebox.com
If you've ever spent the best part of a day queuing up to get into a charging station at a festival, then you will truly appreciate the Pebble Portable Charger, which allows you to charge your phone on the go. The charger is compatible with a range of handsets, coming with connectors for iPhone, Sony, Nokia and both Mini and Micro USB. It might be small but it's certainly mighty, containing enough power to charge an iPhone four times in a single outing.
MusucBag Classic, Lite and Kids
Available at: Firebox.com
The MusucBag has become a festival staple, popping up on every festival montage video in sight. A wearable sleeping bag that will protect you against the elements, the MusucBag Classic is an updated version on the traditional MusucBag of yesteryear and is also available in a Lite version that may (or not!) be more suitable for a Summer trip. The new, improved model features a swanky nylon exterior, a waist belt and heel a toe protection, to keep your little piggies safe as you dance the night away.
Griffin Survivor iPad 2 Case:
Available at: Firebox.com
Sanctioned by the UK Armed Forces, the Griffin Survivor is a tough, shatterproof case that will keep your iPad 2 safe and sound from any shocks, dirt and rain that you might expose it to during your trips into the great outdoors. All of you Apple addicts owe the folks at Griffin Technology a hearty thank you; thanks to them you're now safe to play Angry Birds from the comfort of your campsite.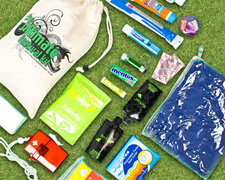 The Ultimate Festival Kit:
Available at: Firebox.com
The perfect gift for any festival virgin, the Ultimate Festival Kit will only cost you a pretty reasonable £26.99 and comes stuffed with all the essentials required for the perfect festival experience. Toilet seat covers and anti-bacterial hand gel will make the rancid long drops a breeze; the first aid kit, sunscreen and condoms will please any wandering health and safety inspector and the emergency blanket is sure to be an absolute godsend to the resident 'nutter' who thought diving into the mud swamp was a great idea.
Stack-Cups
Available at: Firebox.com
If you've pulled the short straw and been dispatched to buy a round of beers from a busy festival bar, you'll be able to full appreciate the genius that is Stack-Cups. Made up of a durable plastic cup and handle, Stack-Cups allows you to stack multiple beer-filled cups in a spiral pattern – there's really no limit to how many you can carry, that's all on you! Reusable and recyclable, Stack-Cups aren't only an absolute life saver, they're also great for the environment; an added bonus.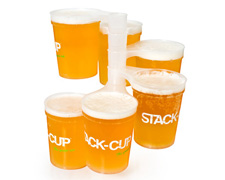 WedgeWellys
Available at: WedgeWelly.co.uk
However great the weather forecast is, however bright the sun is in the sky, do not be lulled into a false sense of security. Do not, under any circumstances, head to a festival this year without a pair of wellies. It will just end in soggy socks, pruney toes and, quite possibly, tears. You might have already seen WedgeWellys on Dragon's Den but, if not, they are pretty much your average Wellingtons – only with the added feature of a built in platform heel. Perfect for any festival-goer who doesn't want to sacrifice fashion for comfort, WedgeWellys promise to be both comfortable and stylish and come in a range of styles and designs, including a wide calf version for those of us with less svelte pins.
Hunters
Available at: Amazon.co.uk
Perhaps high heeled wellies aren't quite your thing. Perhaps you favour a more classic design when it comes to your festival footwear. Well, if that's the case then Hunters are just the Wellington for you, my friend. Famous the world over as the ultimate Wellington boot, the Hunter brand prides itself on delivering a waterproof, comfortable and fashionable shoe that will get you through the muddiest of campsites.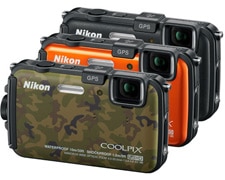 Nikon Coolpix AW100
Available at: Jessops.com
For any budding photographers among you, meet the Nikon Coolpix AW100; a waterproof, shockproof camera that promises to deliver stunning photographs in the most adverse weather conditions. A tough little camera, this model can survive temperatures down to -10 degrees Celsius, being dropped from 1.5m and is waterproof down to depths of 10 metres, which makes it a pretty sturdy piece of kit, in my opinion.
Gelert 4 Function Head Torch
Available at: Tesco.com
Take it from me; trying to pick your way through hundreds of identical tents in pitch black is never a fun experience. Especially not when you think you camped just underneath that big tree, or maybe that big tree… Or that one over there. Rather than blindly stumbling over guy ropes and collapsing on unsuspecting campers, considering investing in the Gelert 4 Function Head Torch, which will light the path back to your tent and keep your hands free to help you keep your balance when you inevitably slip on a discarded crisp packet. Or banana peel, for full comedy value.
You may also be interested in…
See our Top Ten Tents for Summer 2012 here
50% Off selected Outdoor and Camping products in the Tesco Direct Summer Sale here
See the full Festival Tent range at CotswoldOutdoor.com here
- Carly Bennett
You may also be interested in: